TOP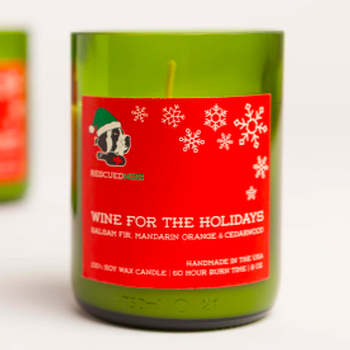 Rescued Wine Candle
Using 100% all-natural soy wax and fragrances infused with essential oils, Rescued Wine candles donates a portion of each sale to animal shelters and nonprofits. Each wine candle is housed in a hand-cut recycled wine bottle and each beer candle uses amber bottles. 70 hour burn time.
IPA: Aromas of nutty hops, spice, orange citrus, and a fresh herb finish.
Lager: Sweet aromas of barley, bergamot, and tobacco, with undertones of fresh woods.
Chardonnay: Combining aromas and flavors of apples, almonds, cinnamon, and undertones of vanilla.
Rosé: Aromas of elegant fruits and red currant with a delicate sweet almond finish.
Clean Home: A clean blend of floral notes with undertones of creamy vanilla and a sandalwood finish. This candle neutralizes pet odor and assists in relaxing your pets.
Holiday: Balsam fir, mandarin orange, and cedarwood